Extendicare breaks ground on its New Retirement Community, Douglas Crossing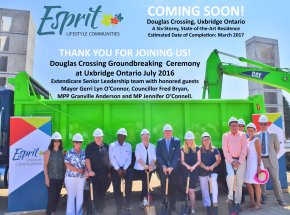 MARKHAM, ON – (July 21, 2016) – Extendicare announces the construction of its' new retirement community in the town of Uxbridge, Ontario under the umbrella of its retirement brand Esprit Lifestyle communities.
Extendicare is a leading provider of care and services for seniors throughout Canada. Through our network of 118 operated senior care and living centres (64 owned/54 managed), as well as our home health care operations, we are committed to delivering care throughout the health care continuum to meet the needs of a growing seniors' population in Canada. Our qualified and highly trained workforce of 23,400 individuals is dedicated to helping people live better through a commitment to quality service and a passion for what we do.
"Extendicare is committed to providing seniors with services right through the Continuum of Care from home care to retirement and long term care." Tim Lukenda, Extendicare's CEO said.
"Upon completion, Douglas Crossing will be a top quality seniors' retirement community in a great location. It will be conveniently close to amenities such as shopping, restaurants and supplies as well as numerous trails/natural habitats juxtaposed with a rich historical heritage that the township of Uxbridge has to offer," He added.
Extendicare's new home Douglas Crossing will provide a community where mature adults can enjoy life to the fullest, while receiving assistance with activities of daily living. It is our belief that all residents and families deserve a living environment that is designed around their needs and preferences.
For further information about Extendicare, contact:
Sofia Mavumba, Communications Manager
Phone: (905) 470-5494
Email: smavumba@extendicare.com
Visit Extendicare's Website at www.extendicare.com.
If you and your family would like to get more information and register for your suite at Douglas Crossing an Esprit Lifestyle Community, contact:
Stacey Sellery, General Manager, Douglas Crossing an Esprit Lifestyle Community
Phone: 1-844-999-9490 or (289) 640-1922